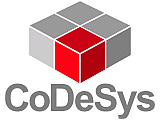 If your control platform (PLC, Soft PLC or Embedded Controller) is CoDeSys based, Applied Logic Systems Ltd can program and commission it.

CoDeSys is the leading hardware independent programming language / software tool for industrial automation and control.

CoDeSys allows the option of programming in all the editors defined in the IEC61131-1 standard: Ladder Diagram (LD), Instruction List (IL), Structured Text (ST), Sequential Function Chart (SFC) and Continuous Function Chart (CFC). This flexibility helps the programmer in that a block of code can be written in the editor most suited to the task. In addition to this, standard functions and function blocks can be written, which then form part of a companyís library to be used time and time again on future projects, even if the control platform hardware changes. This all helps towards the more efficient production of PLC programs.

Festo products now also support CoDeSys. Applied Logic Systems is an approved Festo Software Centre. We are able to write software for Festoís configurable products, including PLCís and HMIís tailored to meet our customers needs.

Further information on IEC61131-3 may be found on the PLCopen web site. The PLCopen organisation promotes the drive towards a global standard for industrial control programming.