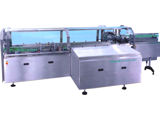 Robot Packaging Cell
Applied Logic Systems wrote, commissioned and validated the PLC software for a cell packing delicate plastic components. The cell comprised of two conventional ABB 8 axes robots, four ABB FlexPicker robots, pneumatics and conveyors (the robots were programmed by others). The PLC interfaced with the robots over Ethernet. The control system was based on an Allen Bradley ControlLogix 1756-L61 PLC, Ethernet/IP Point I/O and two PanelView Plus 1000 HMI's.
Carton Sleeving Machines
The customer required a complete electrical and software solution for a packaging machine that they were developing mechanically. Applied Logic Systems designed, built and commissioned the electrical system. We wrote the servo controller software and commissioned the prototype, then manufactured and commissioned the control systems for subsequent production machines.
The control system was based on a Baldor Nextmove BX II controller and a UniOP touch screen.

Bagging Machines
Applied Logic Systems wrote and commissioned the software for an Allen Bradley SLC 500 PLC with a PanelView touch screen, connected using DF1 communications. Two Allen Bradley Ultra 3000 series servo drives were controlled from the PLC over DeviceNet and a programmable Pilz safety module (connected to a network of ASI modules) was connected to the PLC using Profibus.

Sealing Machines
Applied Logic Systems converted and commissioned a Siemens S7 PLC program to an Allen Bradley ControlLogix program. The Siemens OP panel was also replaced by an Allen Bradley PanelView touchscreen. On some machines, the PanelView was connected to the PLC using DF1 communications, on other machines it was connected using ControlNet communications.